DATES & RATES
The next Inner Beauty Retreat will take place from November 5th - November 10th on the island of the Gods: Bali. During this week you will be able to relax into greatness. Our viewpoint is that you are a perfect, whole being that doesn't need fixing. We will create the surroundings for you to experience an enriching inner journey, to connect with a deeper part of you and to follow your own inner guidance. In order to do so, we give it our all: we work with truly amazing spiritual teachers, stay in a beautiful, luxurious environment in nature, nourish you with delicious vegan foods and we will hold a safe and loving space.
Our primary retreat is called reconnect to your essence. However, from 5th - 10th of November on Bali, we will host our new retreat called: live from your essence. This retreat is the perfect follow up for everyone who is already practicing on the spiritual path and ready to deepen their connection with themselves, and for everyone who has joined one of our retreats before. This is the perfect retreat for inspirators, coaches, lightworkers, gamechangers and entrepreneurs who wish to live and lead from their essence.
In the reconnect to your essence retreat, we've helped our participants connect to their pure, divine essence and taught them the best tools available to reconnect when they feel this connection gets lost, living daily life. In the live from your essence retreat, we'll again reconnect to our pure essence and recapitulate the tools, and take it a bit deeper. We'll teach about healthy relationships, healthy living and how truly living from your divine essence looks like, in daily life.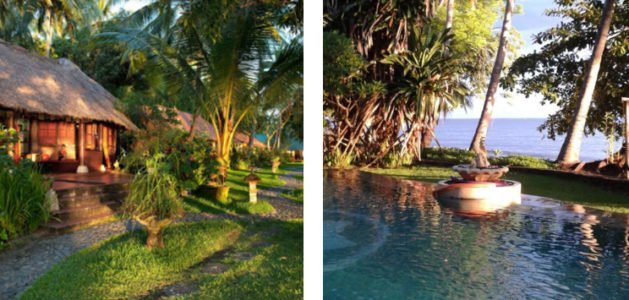 CHOOSE YOUR INNER BEAUTY PACKAGE
We're staying at a beautiful beach resort in peaceful North-Bali. Each of the uniquely designed Balinese-style bungalows is located right on the seafront. The bungalows are constructed out of bamboo, natural stone and wood and have open-air bathrooms, hot water and even fully-equipped kitchens.
The bungalows are designed to maximize airflow and use natural ventilation instead of air-conditioning. You can choose to share a large room with two beds with either one other person or with two other people, in which case two people will share a king-sized bed and the other person sleeps in a single bed.
The resort has a spa with both wellness and beauty treatments available A deep tissue Balinese massage with acupressure is included in your package, leaving you feeling restored and energized from head to toe! The swimming pool overlooks the sea, and if you enjoy walking the beach is a great place to take long walks.
WHAT OUR PARTICIPANTS SAY