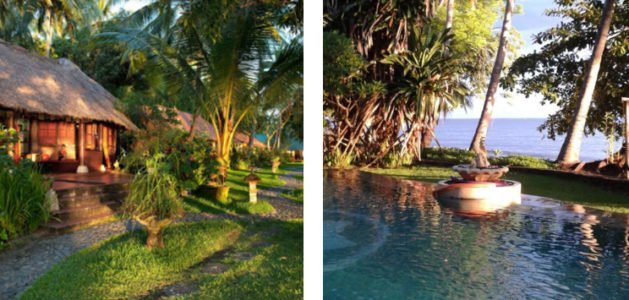 We're staying at a beautiful beach resort in peaceful North-Bali. Each of the uniquely designed Balinese-style bungalows is located right on the seafront. The bungalows are constructed out of bamboo, natural stone and wood and have open-air bathrooms, hot water and even fully-equipped kitchens.
The bungalows are designed to maximize airflow and use natural ventilation instead of air-conditioning. You can choose to share a large room with two beds with either one other person or with two other people, in which case two people will share a king-sized bed and the other person sleeps in a single bed.
The resort has a spa with both wellness and beauty treatments available A deep tissue Balinese massage with acupressure is included in your package, leaving you feeling restored and energized from head to toe! The swimming pool overlooks the sea, and if you enjoy walking the beach is a great place to take long walks.
FOOD
During the retreat we will enjoy some of the most delicious, nutrient and energizing foods the island has to offer. Our home chef Brenda will nourish us with the freshest and tastiests dishes (with recipes to take home!). All our foods are plantbased with respect for our planet.
Our bodies and mind can strongly benefit from eating vegan and alkalizing foods. We'll show you how delicious, nutrient rich and satisfying this clean way of eating can be, and maybe we'll even inspire you for your home cooking skills as well. We'll give it our all to leave your mind and body feeling nourished, energized and inspired.
.
PROGRAM
We have set up a daily program aimed to rebalance and rejuvenate your body, mind and spirit.
Every day our coaches are available for your questions and personal guidance. Would you like to go deeper by booking an extra one-on-one session, you are more than welcome to do so during or after the retreat (extra costs may apply).
The program might slightly vary per day, but the following will give you a good impression:
07.00 fresh juices & snacks
07.30 yoga
09.00 meditation
11.00 brunch
12.00 free time
14.00 workshop*
18.00 dinner
20.00 free time or evening meditation
*All afternoon workshops will revolve around the following topics: Learning how the mind works and how to work with the mind, feeling what it is to be mind-less, learning how to access your truest most essential self, answering big life questions from within, balancing the body, mind and spirit, feeling totally free and reconnecting with all there is in nature.